The purpose of the Royal Australian Electrical and Mechanical Engineers (RAEME) Association Queensland is to promote and reinforce the spirit, reputation, image and competencies of the Corps through its past, present and future members.
The goals of the Association are to:
Promote the Corps' identity and reputation in Queensland

Recognise and celebrate achievements of members of the Corps in Queensland

Provide a focal point for Corps activities in Queensland
The role of the RAEME is to ensure maximum operational availability of equipment to enable the commander to win the land battle. RAEME is a technical corps tasked with the maintenance of the Army's modern hardware and equipment. More on the Corps can be found at this link.
This site has been developed as a communication tool for RAEME members in Queensland. All attempts have been made to ensure the accuracy of the information supplied. If any errors or broken links are found, or if you have any item or article for inclusion on these pages, please contact the webmaster.
RAQ Subscriptions
Annual subscriptions to the RAQ are due by 30 June each year. Subscriptions can be paid using either PayPal (fee free) or EFT by clicking the Icon below and logging in. Renew your subscription for $10 a year or upgrade to Life Subscription for $100.
New members please use the 'Online Registration' link under the Membership banner. All proceeds are used to support and promote the goals of the Association.
Latest News - Next Monthly Meeting to be held on Wednesday 3rd July 2019 @ Kedron Wavell Services Club
Meetings are held on the first Wednesday of each month (unless otherwise indicated) Start time of the meeting is 1730. See the 'Events' under Notices or Upcoming Events top left for more details.
---
ANZAC Day 2019
25 April 2019 marked the 104th anniversary of the landing of Anzac troops at Gallipoli. The Brisbane March was held to commemorate ANZAC Day and was well attended by over 150 RAEME Members.
We were very privileged and honoured to have RAQ Life Member and Chairman's Award Recipient Maurie Maunsell attend to lead our banner, behind RAQ Secretary COL Tony Borg and Hon COL COMDT COL Steve Evans. Maurie who turned 96 this year was a founding member of the Corps, enlisting on 8 Dec 1941 and served in 116 AUST BDE WKSPS achieving the rank of Corporal.
Also a big shout out to the hosts of the ANZAC Day March on the ABC Craig Zonka, Allan Callaghan, and MAJ Richard Thapthimthong, for doing a great job announcing each of the Army groups this year.
After the parade the Association hosted our post-march gathering at a new temporary venue this year, Fridays' Riverside. Again we had well over 175 members and guests attend, in what is traditionally our biggest event of the year.
The new surroundings, which were very spacious and Friday's Manager Owen very graciously shouted everyone their first drink, which was very welcome for all those who attended. Lunch was catered for 150 guests, who were able to mingle and be seated across the venue, making for a very relaxing and enjoyable afternoon catching up with fellow members and guests.
The event wrapped up around 1800hrs, which was also a little later than planned. A big thank you to Friday's staff, who did a great job catering for the needs of a number of "BlueBells".
We want to specifically thank Manager Owen, with help from Functions Coordinator Paige. Last but not least our ever reliable Committee who always turn up, making sure the day ran smoothly, contributing to the success of the day.
We have a number of photos taken on the day and can be viewed at the ANZAC Day 2019 Gallery Link.
Arte et Marte - Lest We Forget
---
HOC Visits The Colonel In Chief
His Royal Highness The Duke of Edinburgh recently received Brigadier Andrew Freeman, Head of the Royal Australian Electrical and Mechanical Engineers at Windsor Castle. Brigadier Freeman was on an official Visit to the UK.
Brigadier Freeman recently tweeted, "It was an absolute pleasure to meet His Royal Highness who has remained RAEME's Colonel in Chief having retired from official duties."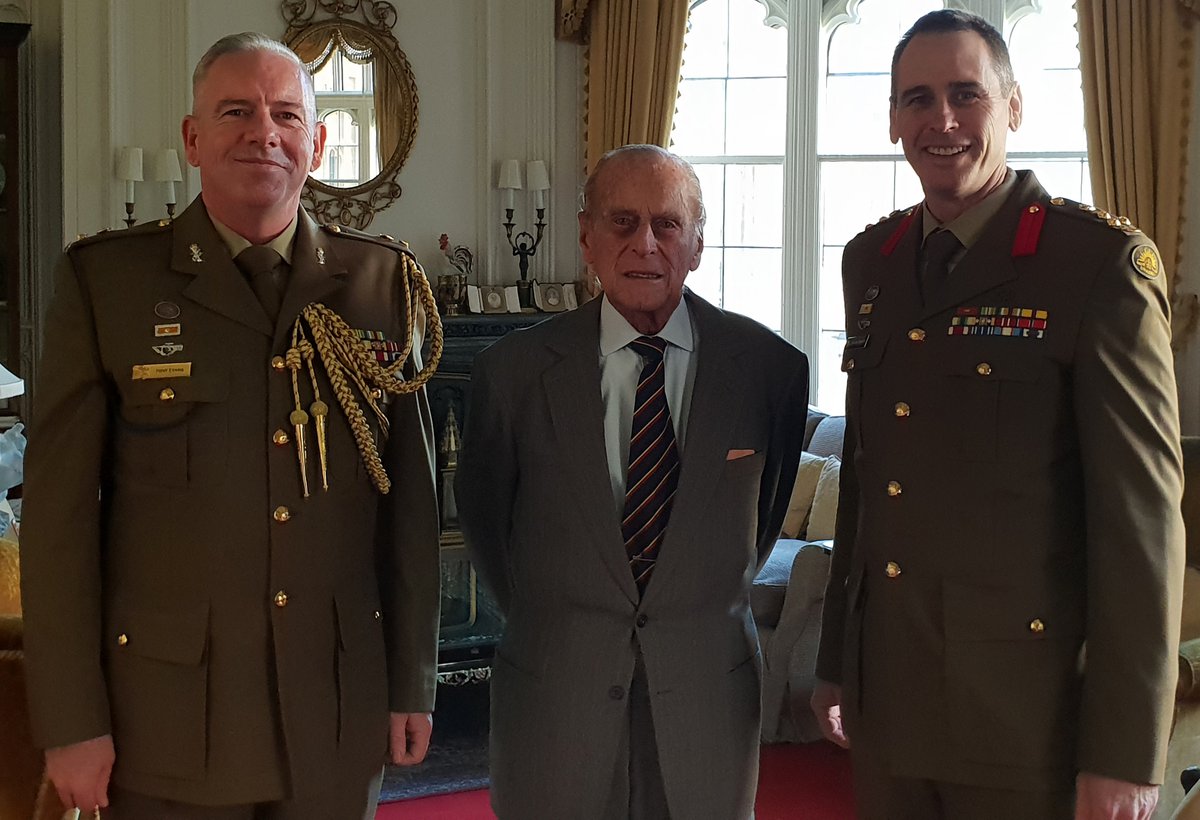 Pictured above: The Duke, who is Colonel-in-Chief of RAEME (centre), received Lieutenant Colonel Anthony Evans RAEME, Chief of Staff at the Australian High Commission (left) and Brigadier Andrew Freeman, HOC RAEME (right).