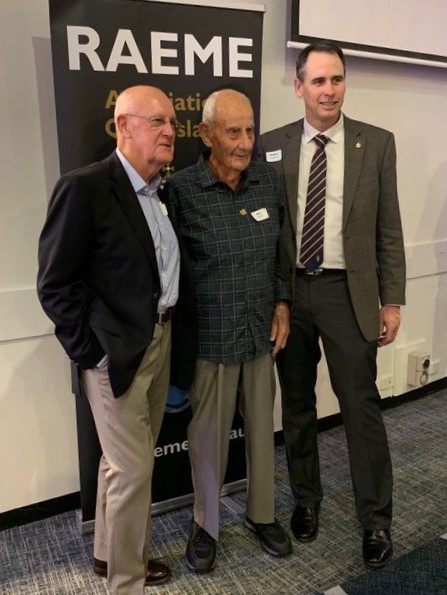 Pictured Above: BRIG (Rtd) Ross Grant, BRIG (Rtd) Bert Barker & BRIG Andrew Freeman
It's not everyday you get to have three generations of Corps Brigadiers in one room, however this happened at the recent RAQ Sunshine Coast Luncheon held at the Maroochydore RSL on Saturday 31st August 2019.
We had the pleasure of HOC BRIG Andrew Freeman as guest speaker for the event, who spent time updating the guests on the current developments within the CORPS.
We also had the pleasure of welcoming one of the founding members of the CORPS BRIG Bert Barker (98), and RAQ Parton and Life Member BRIG Ross Grant (73). Both Ross and Bert received Chairman's Awards for their dedication and service to the Association in Queensland. Congratulations to both Award recipients, a full list of recipients is available on the Honours Page.
Pictured Above: BRIG Bert Barker & BRIG Andrew Freeman