Women in RAEME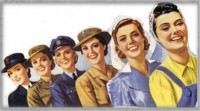 From 11.10.2023 09:30 until 11.10.2023 12:00
In conjunction with the Army Museum South Queensland and the 'Women in Uniform' exhibition we are hosting a professional development and networking event.
All serving members, veterans, guests, families, partners and others who are interested or associated with the Corps are welcome to attend this FREE EVENT.

Attendees will be able to view the exhibition and we have two prominent RAEME guest speakers along with a Q&A.
As this is being held on an operational Military Base, there are restrictions on entry and registration is compulsory. (see below)
Parking is available on site. Public transport options are also conveniently located. RAEME merchandise will be available to purchase, and we have lucky door prizes for attendees.

Come along and enjoy a great morning to network and learn
Date: Wednesday 11 October 2023
Time: 0900hr for 0930hr - 1200hrs
Catering: Tea/Coffee & Morning Tea
Dress: Dress of the Day/ Collared shirts /Business Casual
RSVP: Wednesday 4 October 2023 (see below)
All Public Registrations

All public attendees without Defence Common Access Card with need to register and be escorted onto the base.
Please click on the button above and provide all details.
Serving members and DCAC Pass Holders
Serving Members and others with a Defence Common Access Card (DCAC) please click on the button below to register and provide details of all attendees
This email address is being protected from spambots. You need JavaScript enabled to view it.
For all attendees, please be at the front gate NLT 0900 on the day. Please make sure you bring along you ID.
We look forward to seeing you there.
Sponsors