The Royal Australian Electrical and Mechanical Engineers (RAEME) Association Queensland Inc is a not for profit volunteer organisation, supporting the RAEME National Network by providing leadership to, and a focal point for, all RAEME affiliated Associations in Queensland, by promoting and recognising the corps and its achievements via independent memorial, celebratory, social, fundraising, sporting and other activities.
The goals of the Association are to:
Promote the Corps' identity and reputation in Queensland

Recognise and celebrate achievements of members of the Corps in Queensland

Provide a focal point for Corps activities in Queensland
The role of the RAEME is to ensure maximum operational availability of equipment to enable the commander to win the land battle. RAEME is a technical corps tasked with the maintenance of the Army's modern hardware and equipment. More on the Corps can be found at this link.
This site has been developed as a communication tool for RAEME members in Queensland. All attempts have been made to ensure the accuracy of the information supplied. If any errors or broken links are found, or if you have any item or article for inclusion on these pages, please contact the webmaster.
RAQ Subscriptions
Annual subscriptions to the RAQ are due by 30 June each year. Subscriptions can be paid using either PayPal (fee free) or EFT by clicking the Icon below and logging in. Renew your subscription for $10 a year or upgrade to Life Subscription for $100.
New members please use the 'Online Registration' link under the Membership banner.
All proceeds are used to support and promote the goals of the Association.
Meetings and Functions
Are held on the first Wednesday of each month excluding January, the latest information is on the Events page.
---
Women in RAEME event - Victoria Barracks Brisbane - Wed 11 October 2023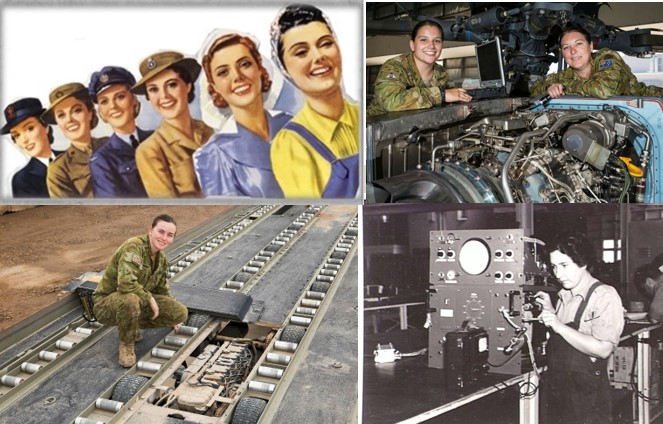 In conjunction with the Army Museum South Queensland and the 'Women in Uniform' exhibition we are hosting a professional development and networking event.
All serving members, veterans, guests, families, partners and others who are interested or associated with the Corps are welcome to attend this FREE EVENT.
Attendees will be able to view the exhibition. We have two prominent RAEME guest speakers attending, who will participate in a Q&A.
Parking is available on site. Public transport options are also conveniently located. RAEME merchandise will be available to purchase, and we have lucky door prizes for attendees.
Come along and enjoy a great morning to network and learn.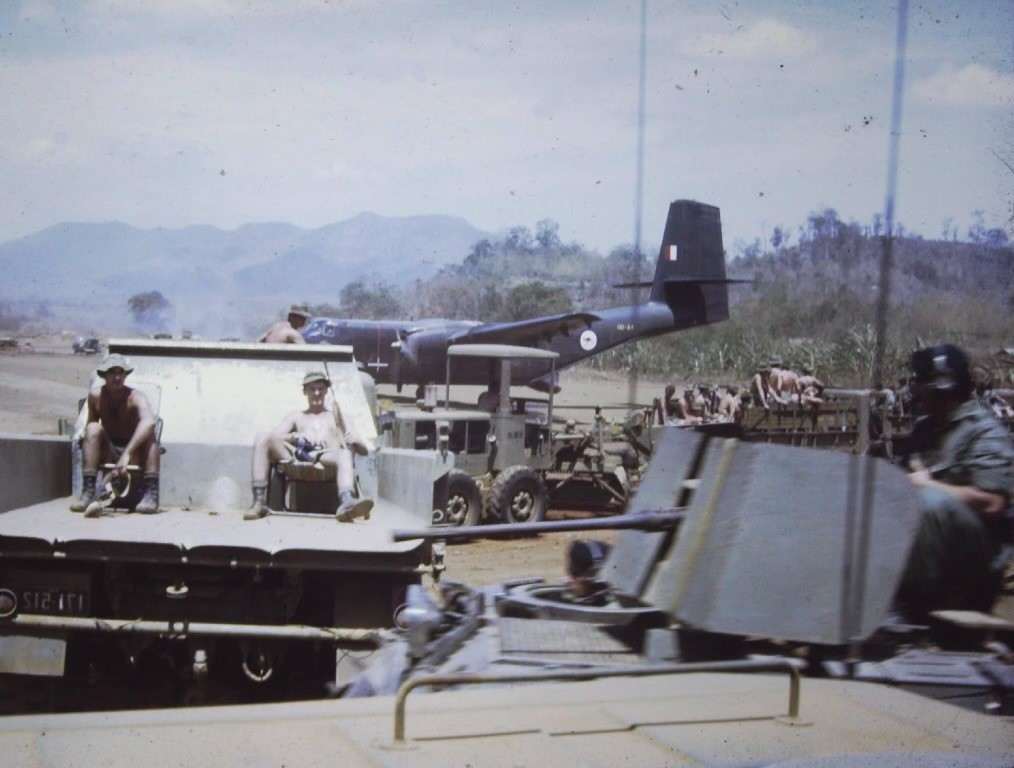 Pictured above: RAQ Life Subscriber Des Kearton's photo from Vietnam going to a concert party at Nui Dat, Vietnam in 1968, has been selected to be displayed in the 2023 Point and Shoot- Australian veteran photography exhibition showing in Brisbane 13- 15th October, and in Townsville 20- 22nd October. The online display for viewing from 23rd October.
From its Tasmanian beginnings in 2020, Point & Shoot launched onto the national stage in 2022 and continues to grow.
Showcasing a powerful collection of career imagery and accompanying stories from Australian veterans, this exhibition brings a voice to the unique experiences of serving personnel.
Covering military service from post World War II onwards, the exhibition commemorates a range of modern conflicts, peace operations and service and provides a rare glimpse into the life and experiences of fellow Australians who have served their country.
Point & Shoot is the concept of Point Assist founder Mark Direen, a former Infantry and Special Forces soldier with over 20 years military service including 6 overseas deployments.
The purpose of the Point & Shoot exhibition is not to display perfectly captured photos from professional photographers. But rather, to share some of those moments frozen in time that those who serve our nation thought were worth remembering. We invite all Australian veterans to submit an image. Everyone has a story and we encourage you to share yours.
---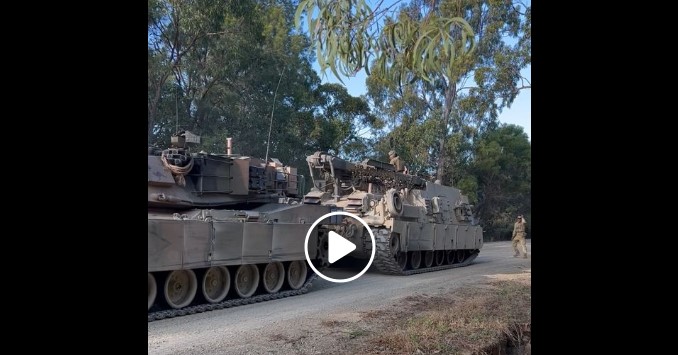 Pictured above: M88 Hercules getting this Abrams Tank back into the fight
Each M88A2 Heavy Equipment Recovery Combat Utility Lift and Evacuation System (HERCULES) armoured recovery vehicles. Valued at over $58 million. The HERCULES main role is to support Australia's existing fleet of Abrams main battle tanks.
The HERCULES, weighing in at 58 tonnes is primarily used for repairing and recovering tanks and other vehicles in combat situations.
Manufactured by BAE Systems, the HERCULES boasts overlay armour protection, ballistic skirts, an extended 35-ton boom, a 63,504-kilogram main winch with 280 feet of cable, and an auxiliary 3-ton winch to facilitate main winch cable deployment.
Image courtesy of Defence
---
S

ky Ranger R70 unmanned aerial system - Darwin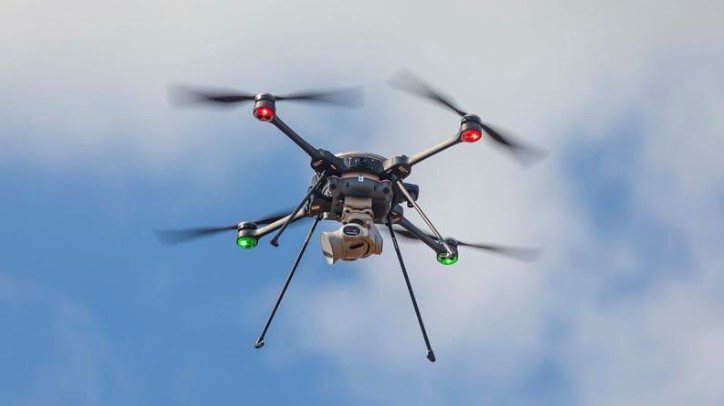 Pictured above: The Sky Ranger R70 unmanned aerial system operating at RAAF Base Darwin, NT, in 2022. Photo: Leading Aircraftman Sam Price
Having your next batch of ammo or rations arrive via drone could be no more than a couple of years away, after innovation contracts were awarded to develop tactical logistics uncrewed aerial systems.
Contracts were awarded in August after companies successfully pitched their ideas at Army Innovation Day 2022.
Jabriu Aircraft was selected in the medium-lift category with a coaxial quadcopter the company hopes will lift and deliver a 50kg load in an Army trunk.
Another selected for the heavy lift category was Crystalaid's eight-rotor, turbine-powered UAV with a planned lift capacity of more than 800kg.
Crystalaid Director Ross McKinnon said the craft's redundant systems would mean it could take damage and still fly after losing systems, including rotors.
Some rotors would provide lift, while others control direction, meaning the craft remains level when moving, unlike traditional helicopter designs.
"When you're moving casualties or containers you don't want it tilting all the time. Moving in a flat plane helps operationally in some situations," Mr McKinnon said.
Army will work with each company over the next two years to develop and mature logistic UAS technologies to deliver combat supplies to soldiers in restricted terrain or high risk environments.
The innovation contracts will see Crystalaid and Jabiru demonstrate their technology to Defence in late 2024. While Geodrones will demonstrate theirs in early 2025.
Image and article courtesy of Defence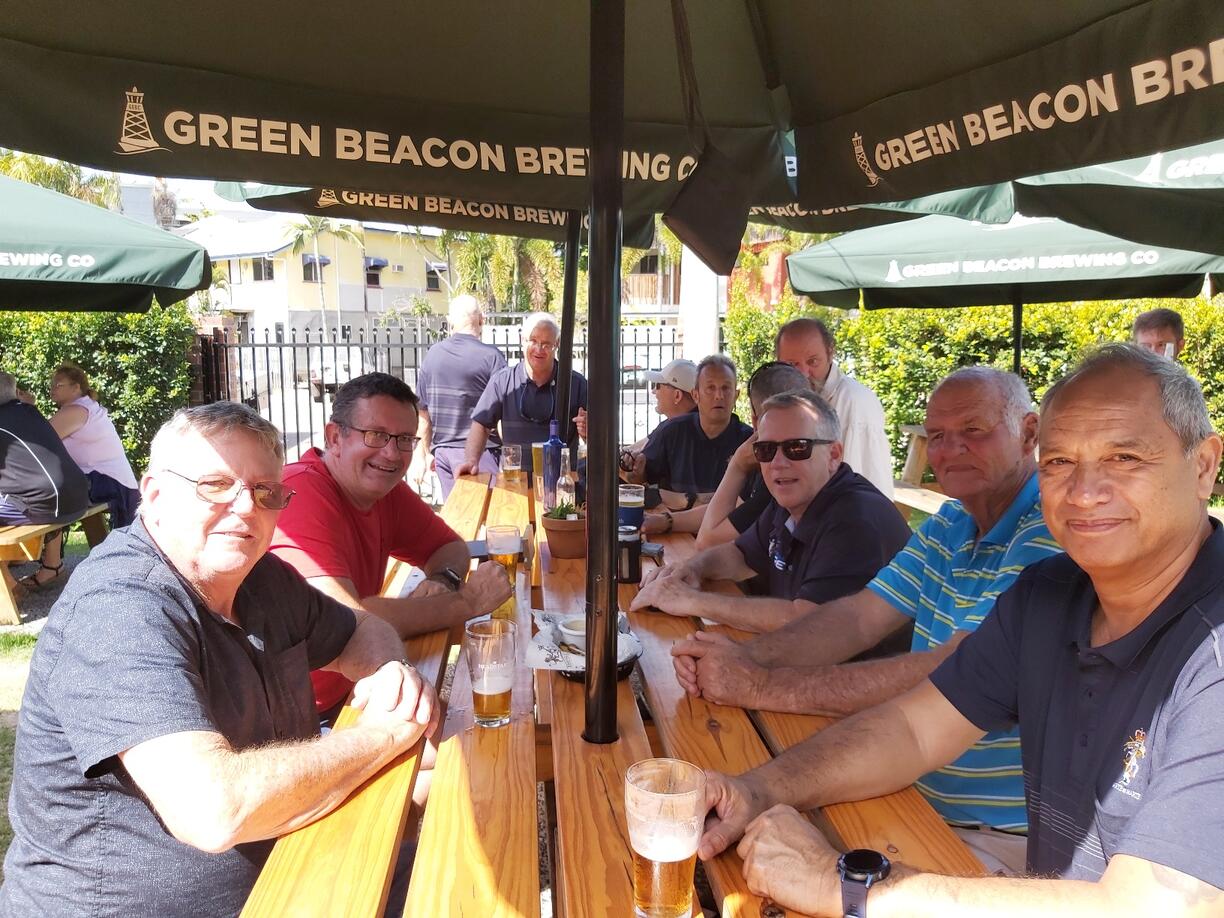 Pictured Above: L-R - Bruce Ferguson, Duane Maggenti, Mick McMillan, Bert Greenfield, Flynn Wetherbee, Lyndsay Mariner, Greg Jones, Ross Casey, Rocky Hema
A great day was had by all in the balmy and breezy weather of North Queensland at the Empire Hotel, South Townsville on Sat 23 Sep 23. The staff certainly looked after us with refreshing beverages a plenty and great bar snacks. Around 50 RAEME personnel attended with a vibrant mix of serving and ex-serving members.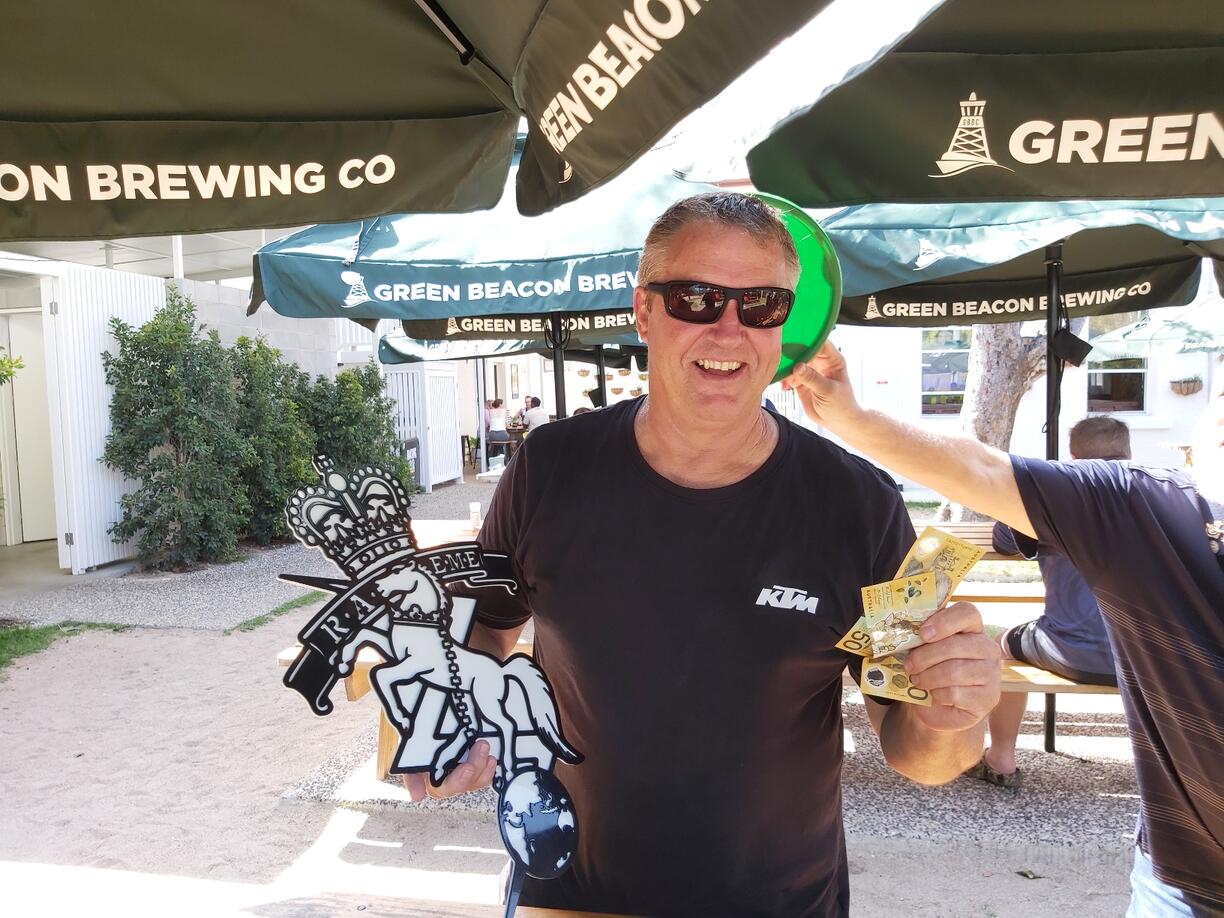 Pictured above: Mick Robinson - Winner Badge raffle and $100 RAQ Member Draw
It was fantastic to see some partners and families along to share in some lunch, banter and frivolities. Two meat trays were raffled off as was a large RAEME badge and the $100 membership drawer was conducted. We had one lucky member, Mick Robinson (ex WO1 VM) that won the membership and the RAEME badge together. Robbo graciously placed the $100 over the bar, so well done that man.
Pictured above; L-R - Renee Goninan, Mrs Bergquist, Dean Goninan, Bill Bergquist, Don de Tarczynski
As Christmas is rapidly approaching, we are gearing up for the final NQ Gathering for 2023 in late Nov 23 prior to the RAEME Birthday activity hosted by 3 CER at Lavarack Bks on 1 Dec 23. Stay tuned to the Fri Files for more info.
Checkout all the photos of the day in the gallery.
Robert Pontifex
This email address is being protected from spambots. You need JavaScript enabled to view it.
---
3 BDE Legacy Fishing Competition - Townsville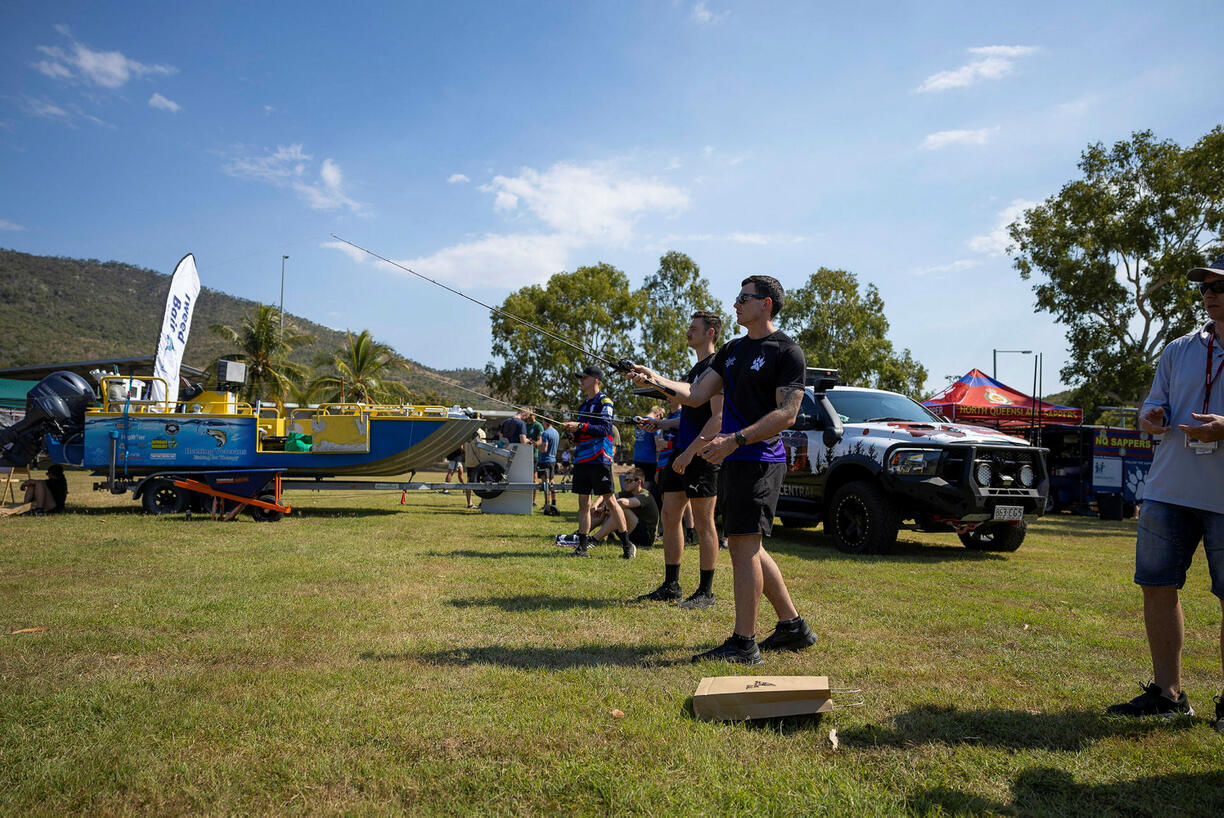 Pictured above: Soldiers from the 3 BDE perform a few practice casts at the 2023 3rd Combat Fishing Competition at Lavarack Barracks Townsville, Queensland.
Australian Army soldiers from the 3rd Brigade, veterans, personnel from Townsville Emergency Services participated in the 3rd Brigade Legacy Fishing Competition around the Townsville region, Queensland.
Presentations for the best catch were held at Lavarack Barracks Townsville. Over $20,000 in donations went to Legacy North Queensland.
Pictured above: CPL Mitchel Edwards from the 10FSB receives the 1st place prize for 'Biggest Spanish Mackerel" for the 3 BDE Fishing Competition at Lavarack Barracks Townsville, Queensland.
Image and article courtesy of Defence