The Royal Australian Electrical and Mechanical Engineers (RAEME) Association Queensland Inc is a not for profit volunteer organisation, supporting the RAEME National Network by providing leadership to, and a focal point for, all RAEME affiliated Associations in Queensland, by promoting and recognising the corps and its achievements via independent memorial, celebratory, social, fundraising, sporting and other activities.
The goals of the Association are to:
Promote the Corps' identity and reputation in Queensland

Recognise and celebrate achievements of members of the Corps in Queensland

Provide a focal point for Corps activities in Queensland
The role of the RAEME is to ensure maximum operational availability of equipment to enable the commander to win the land battle. RAEME is a technical corps tasked with the maintenance of the Army's modern hardware and equipment. More on the Corps can be found at this link.
This site has been developed as a communication tool for RAEME members in Queensland. All attempts have been made to ensure the accuracy of the information supplied. If any errors or broken links are found, or if you have any item or article for inclusion on these pages, please contact the webmaster.
RAQ Subscriptions
Annual subscriptions to the RAQ are due by 30 June each year. Subscriptions can be paid using either PayPal (fee free) or EFT by clicking the Icon below and logging in. Renew your subscription for $10 a year or upgrade to Life Subscription for $100.
New members please use the 'Online Registration' link under the Membership banner.
All proceeds are used to support and promote the goals of the Association.
Meetings and Functions
Are held on the first Wednesday of each month excluding January, the latest information is on the Events page.
---
New Representative Colonel Commandant - Brigadier Edward Smeaton

Pictured above: l-R. Brigadier Ed Smeaton. Brigadier Smeaton being presented with this DSM by Her Excellency the Honourable Dr Jeannette Young AC PSM in 2022.
The Corps RSM WO1 Jon Tynan recently announced Brigadier Ed Smeaton has been appointed as the Representative Colonel Commandant for RAEME.
Brigadier Smeaton is a life subscriber of the RAEME Association Queensland.
On behalf of the Association, we congratulate Brigadier Smeaton on his appointment and we look forward to working with him over the coming years.
---
RAEME Recovery Mechanics Memorial - NQ

Corps members have dug deep over the past week. Thanks to some more generous donations, the fund is at $37,514 raised which is 94% of the $40,000 required. Please continue to dig deep by donating to the Memorial Fund.
The plans are progressing to build a permanent memorial rest-stop at the accident site, where WO2 Ryan Leslie and Craftsman Brendon Payne, two superb soldiers tragically died while serving their country on a military exercise in the Townsville Field Training Area on 30 August 2021. The memorial is set off to the side of the Dotswood / Mingela Road in a safe location to allow people to stop and reflect.
The memorial will consist of a bespoke designed wooden memorial facade, designed and built by RAEME personnel, carrying plaques for Ryan and Brendon. This will be placed into a concrete foundation. A hard-wearing, concrete seat will then be provided for people to sit on when they visit, and a weather-proof box will be included for people to leave notes and messages for the soldiers and their families.
We have developed an online page to keep everyone updated, it's available at this link.
We still need more and if you can donate to the memorial, the details are:
Defence Bank
BSB: 833205
Account Number: 20682037
Account Name: RAEME Association Queensland
Please ensure you add 'Memorial Donation' to any deposit description or click on the button below to pay via credit card.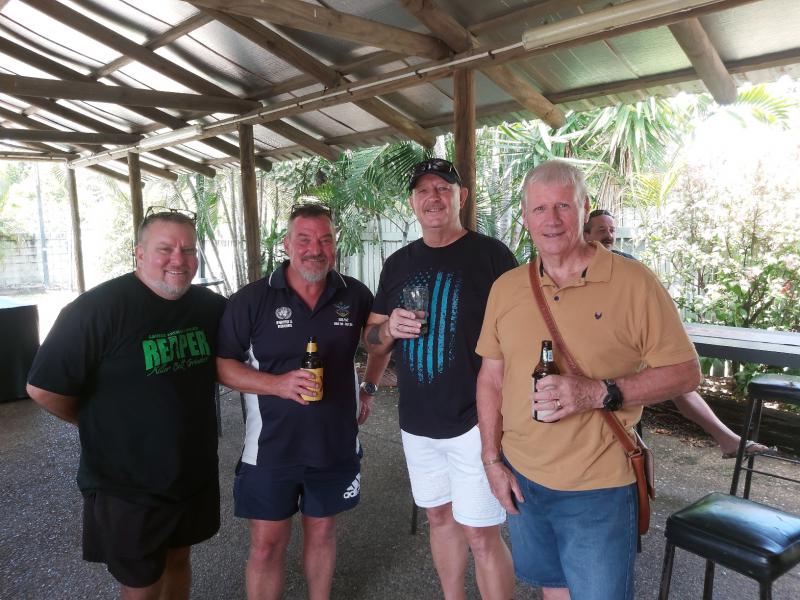 Pictured above: L-R - Tony Earwaker, Cat Coney, Bert Greenfield, Dave Packer at the February gathering.
An invitation is extended to all RAQ, current and former RAEME members (ground and air) and all friends of the Corps to attend a RAQ (NQ) gathering.
Members Draw – use your digital card for tickets –

See below

RAEME Badge raffle - proceeds to go towards the Recce Mech Memorial

Meat tray raffles

Bar Snacks

RAQ merchandise
When – Sat 24 Jun 23, from 1230h – onwards
Where – The Royal Hotel - 56 Stagpole St, West End (Townsville) QLD 4810 Ph: (07) 3051 7683
Winter is coming to Townsville, so dust off that long sleeve singlet to enjoy a cool winter's day at the other West End Hotel, the Royal. Good weather, good mates and good banter. Let's look after each other and bring a mate to reconnect with the RAQ family, NQ style.
This email address is being protected from spambots. You need JavaScript enabled to view it.
Robert 'Tank' Pontifex
RAQ NQ
---
Trade changes take effect

Pictured above: CFN Joel Cornin from 10th Force Support Battalion deployed on Operation Resolute, inside the LCM-8 landing craft engine room, near West Montilivet Island.
The recent changes announced regarding the implementation of the Technical Workforce Review (TWR) became effective on 11 May 2023. Soldiers will receive personalised guidance from Career Management-Army based on their specific circumstances, role, and trade.
These changes are the most significant in the past 17 years, impacting the roles, tasks, and trades within our Corps. The outcomes of the review recognise the evolving qualifications, skills, knowledge, actions, and environmental complexity of RAEME employment categories.
The review aims to better position the trades to take advantage of future opportunities, overcome challenges and presents an excellent opportunity for the Corps to make significant progress in our extensive and esteemed history.
---
Hoodies now dispatched

A big thankyou to all our members who purchased Hoodies, you should have started to receive them this week. I would have to say they have been a welcome addition considering the cooler than normal temps in SE QLD.
This was a significant logistical exercise to get the 220 Hoodies from the supplier in a total of 17 large shipping boxes. These where then broken up into individual packed orders, labelled and postage out to shoppers right around Australia and out to Amberley for pickup.
Thank you to Bruce Hermann (supported by wife Kathryn) and Ty Bodle who managed the distribution and postage of all the items.
They've been so popular we've had questions around are we going to do another run? Given the success of the orders we will likely do another run depending on interest, you can register here. We have ordered a few extras already to cover any sizing/postage issues. Any spares will be offered on a first come first served basis. Keep an eye on future editions for any details.
---
RAEME Bow Tie and Cummerbund Pre-Order now Available

Thanks again to another idea from the team in NQ, we now have available a Pre-Order of a RAEME Bow Tie and Cummerbund Set. Stock is expected at the end of May.
Once stock arrives, they will be available as individual items. Price for this special order is a reduced $60 Retail and $54 for Members. Click on the image to order now.
Each set features:
Once each of a Bow Tie and Cummerbund

Tricolour design

Custom made polyester

Be the best dressed at your function!
Members don't forget to login to get your discounted pricing. Postage costs and options are available at checkout.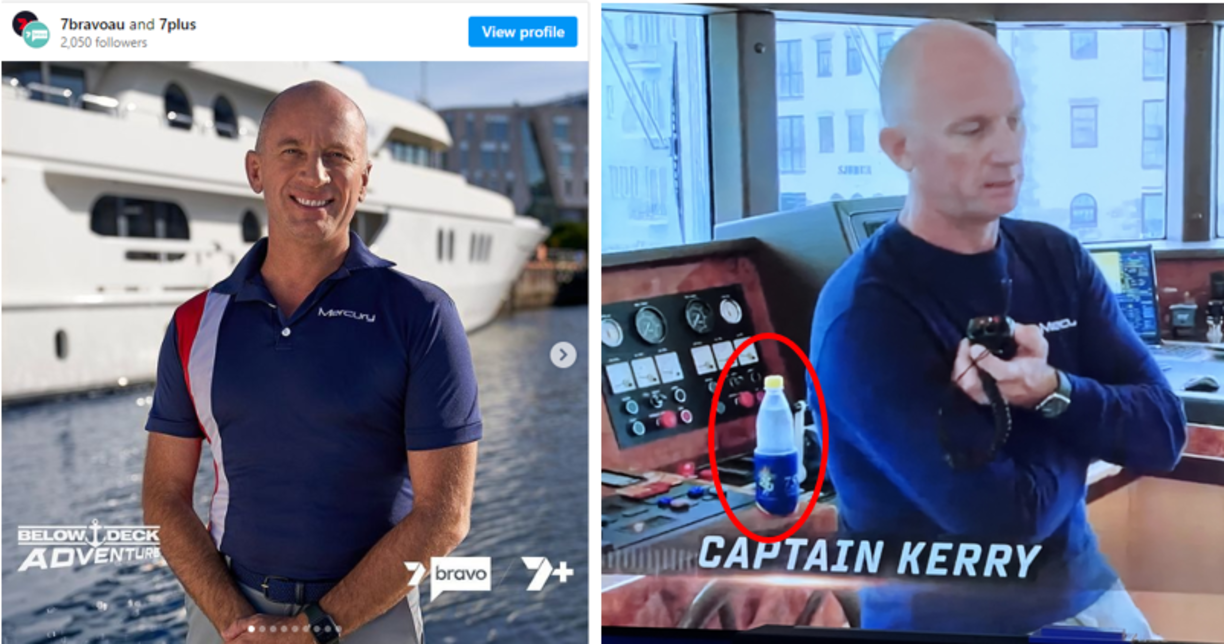 My son Kerry is the captain in the new Below Deck franchise – Below Deck Adventure. It went to air on Seven Channel 75 and Seven Plus on Wednesday 17 May 2023. The show was filmed in Norway.
Being the son of a RAEME soldier, he has a great affinity with the Corps. I have kept him supplied with RAEME good such as hats, stubby coolers and stickers. Kerry has used a RAEME stubby cooler on the show
The show has previously aired on the pay TV channel HAYU. I advised Fred Read and Jock Flitton who know Kerry very well of the impending TV show, and an eagle eyed Jock spotted the stubby cooler on the show (see above).
Being a smart son of an old RAEME soldier, while in Norway, Kerry was able to swap his much-valued stubby cooler for an Australian Army Bugle. Although nothing could usually purchase a RAEME stubby cooler, Kerry decided to do the trade.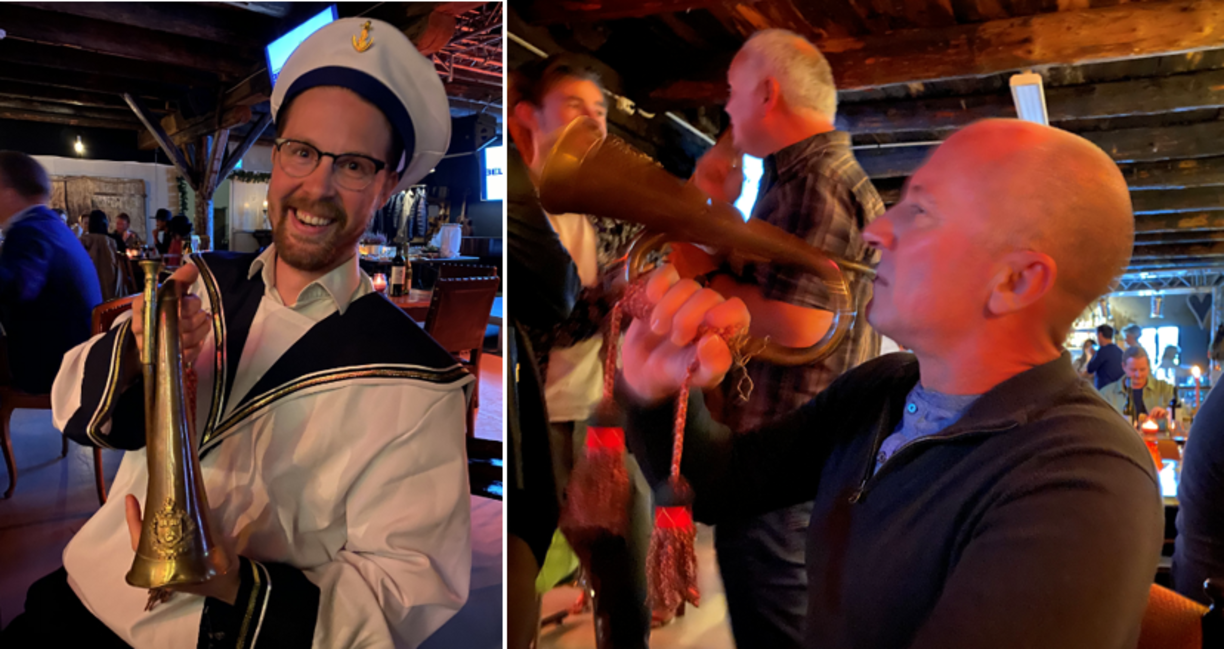 With the help of Bruce Hermann, I have managed to RESUP Kerry with more RAEME memorabilia. Keep your eyes peeled for the stubby cooler!
Throughout the episodes, there will be some photos of me in uniform with my family as well as reference to the Army from Kerry.
Kerry also received fan email/social media contact, and to his surprise a daughter of a REME Sergeant contacted him and asked about the stubby cooler. She sent some photos of her dad and other things.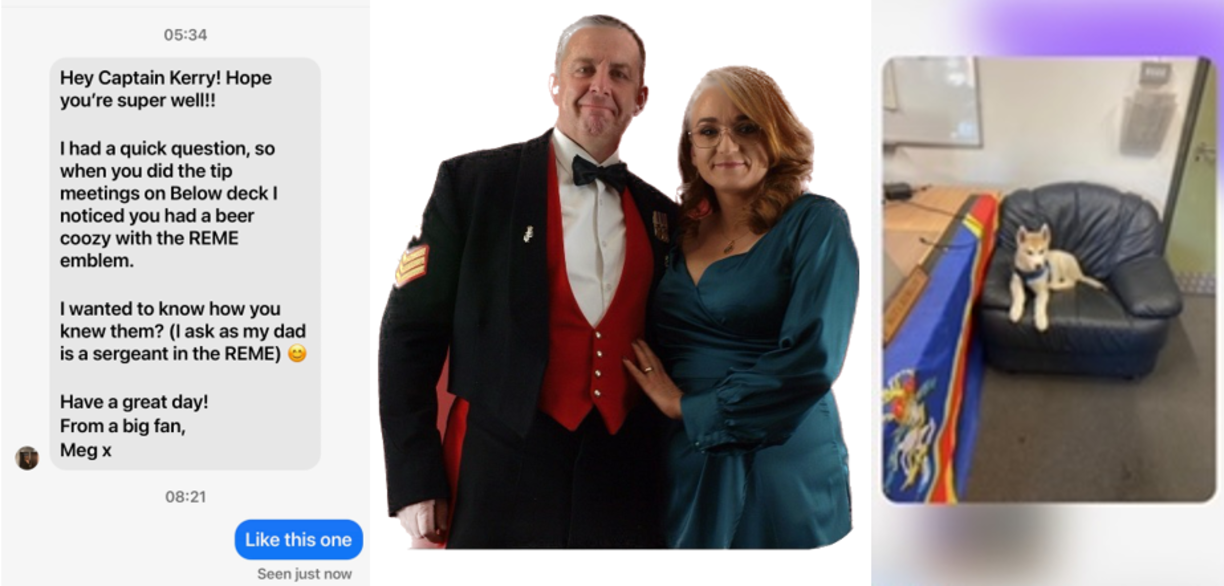 It is great to see the Corps shown on the international stage in this fashion.
I am proud of my son and how he wants to put the Corps forward in his show and great that members can see RAEME being shown internationally on TV.
Kind Regards
Barrie Titheradge
RAQ Life Subscriber
---
Ministry of Defence visit - Gallipoli Barracks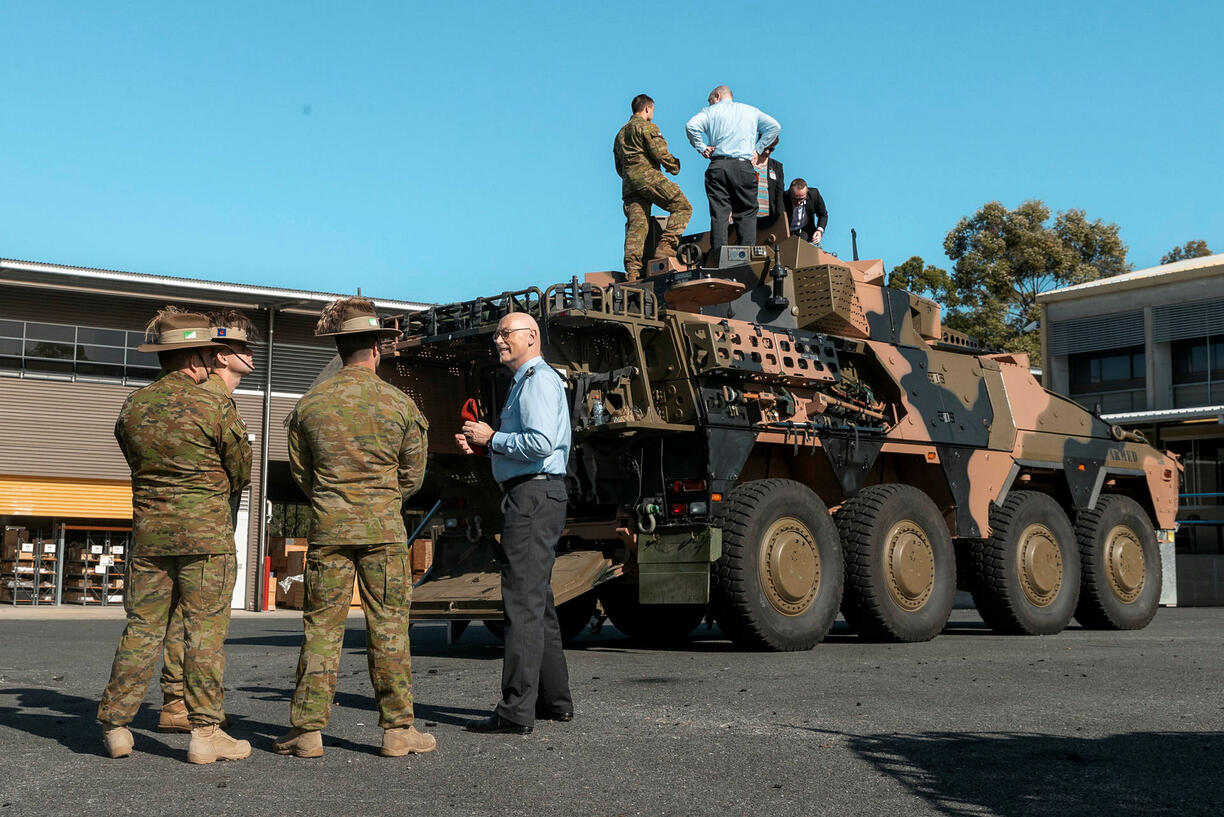 Pictured above: Delegations from German Federal Ministry of Defence attend a static display of the Australian Army Boxer Reconnaissance Vehicle from the 2nd/14th Light Horse Regiment (Queensland Mounted Infantry), during their visit to Gallipoli Barracks, Brisbane.
A delegation from the German Army and Ministry of Defence visited Gallipoli Barracks, Brisbane in May to receive demonstrations of Australian Army capabilities. The delegation was accompanied by members from the German Embassy and Rheinmetall Defence. They attended the 2nd/14th Light Horse Regiment (Queensland Mounted Infantry) compound and viewed a static demonstration of the Australian Army Boxer Combat Reconnaissance Vehicle. The visit further enhanced Defence's commitment to maintaining strong relationships with partner nations.
Image and article courtesy of Defence
---
ANZAC Challenge Cup - Adelaide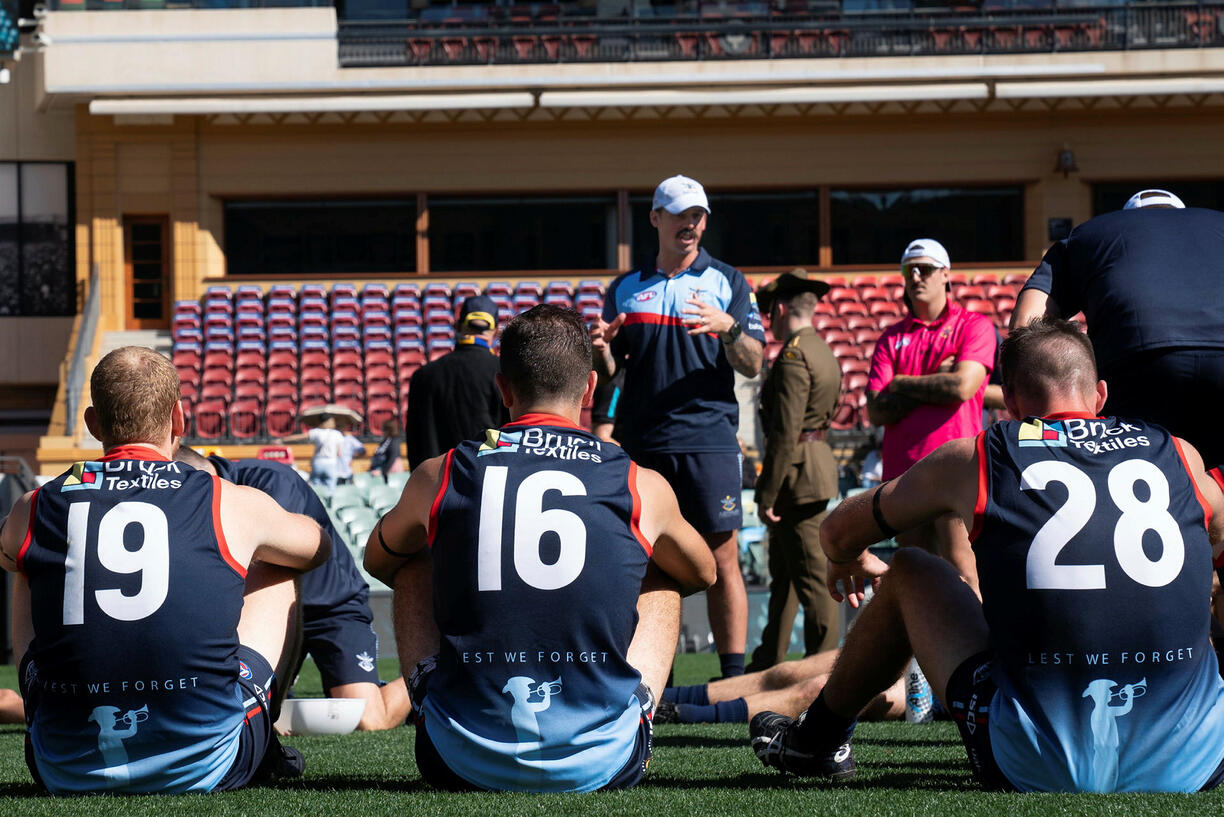 Pictured above: Able Seaman Lachlan Haines, Able Seaman Tynan Doyle and CFN Matt Storey from the Australian Defence Force Men's AFL All Stars receive a halftime brief from Bombardier James Taylor, assistant coach for the Australian Defence Force Men's AFL All Stars
The Australian Defence Force Men's AFL All Stars played in the annual curtain-raiser game against the Australian Combined Emergency Services (ACES) team before the Port Adelaide vs West Coast Eagles game as part of the AFL Anzac Round at Adelaide Oval in Adelaide on Saturday, 22 April 2022. The Anzac Challenge Cup is an extremely important occasion on the AFL calendar for the serving Australian Defence Force and Australian Combined Emergency Services personnel to reflect on their service and the service of others. The ADF Aussie Rules Association is responsible for governing AFL within the ADF, ensuring it is administered, coached, umpired and played in a way that enhances ADF capability.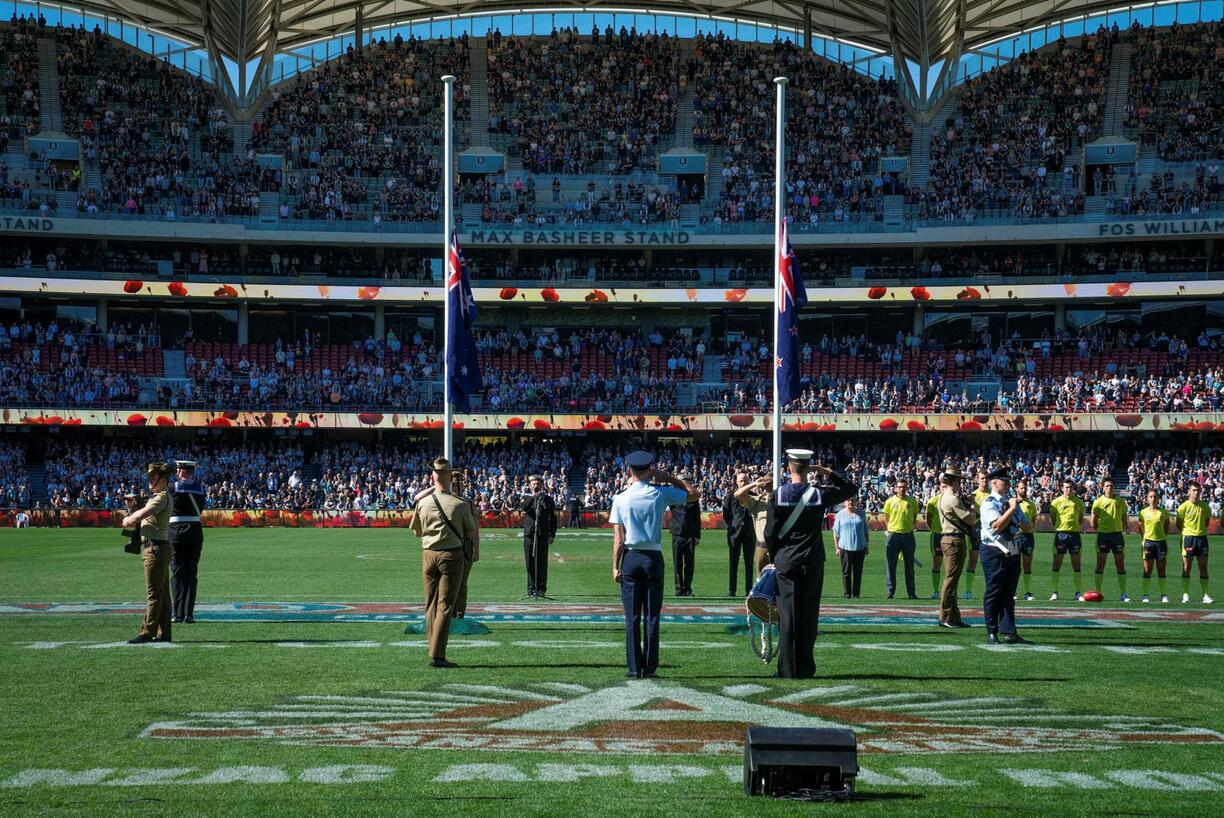 Pictured above: Tri Service catafalque party conducting a pre-game commemoration service to remember the service and sacrifice of servicemen and woman past and present. Catafalque party is led by Sargent Lachlan Robinson, Royal Australian Airforce
There are currently a broad range of serving ADF members associated within the AFL at the elite level across various clubs as players, coaches and umpires. On Anzac Day, we remember not only the Australian & New Zealand Army Corps (ANZAC) soldiers who died on 25 April 1915 and throughout the Gallipoli campaign, but every one of our servicewomen and men who have served and died in all wars, conflict and peacekeeping operations. We reflect on their great courage, discipline and self-sacrifice in choosing a life of service to their country. The Anzac spirit lives on in the hearts and minds of all Australian as we acknowledge the courage and sacrifice of those who contributed so much in shaping the identity of this proud nation.
Images and article courtesy of Defence