The Royal Australian Electrical and Mechanical Engineers (RAEME) Association Queensland Inc is a not for profit volunteer organisation, supporting the RAEME National Network by providing leadership to, and a focal point for, all RAEME affiliated Associations in Queensland, by promoting and recognising the corps and its achievements via independent memorial, celebratory, social, fundraising, sporting and other activities.
The goals of the Association are to:
Promote the Corps' identity and reputation in Queensland

Recognise and celebrate achievements of members of the Corps in Queensland

Provide a focal point for Corps activities in Queensland
The role of the RAEME is to ensure maximum operational availability of equipment to enable the commander to win the land battle. RAEME is a technical corps tasked with the maintenance of the Army's modern hardware and equipment. More on the Corps can be found at this link.
This site has been developed as a communication tool for RAEME members in Queensland. All attempts have been made to ensure the accuracy of the information supplied. If any errors or broken links are found, or if you have any item or article for inclusion on these pages, please contact the webmaster.
RAQ Subscriptions
Annual subscriptions to the RAQ are due by 30 June each year. Subscriptions can be paid using either PayPal (fee free) or EFT by clicking the Icon below and logging in. Renew your subscription for $10 a year or upgrade to Life Subscription for $100.
New members please use the 'Online Registration' link under the Membership banner.
All proceeds are used to support and promote the goals of the Association.
Meetings and Functions
Are held on the first Wednesday of each month excluding January, the latest information is on the Events page.
---
Great Endeavour Rally - 106 FD WKSP - Queensland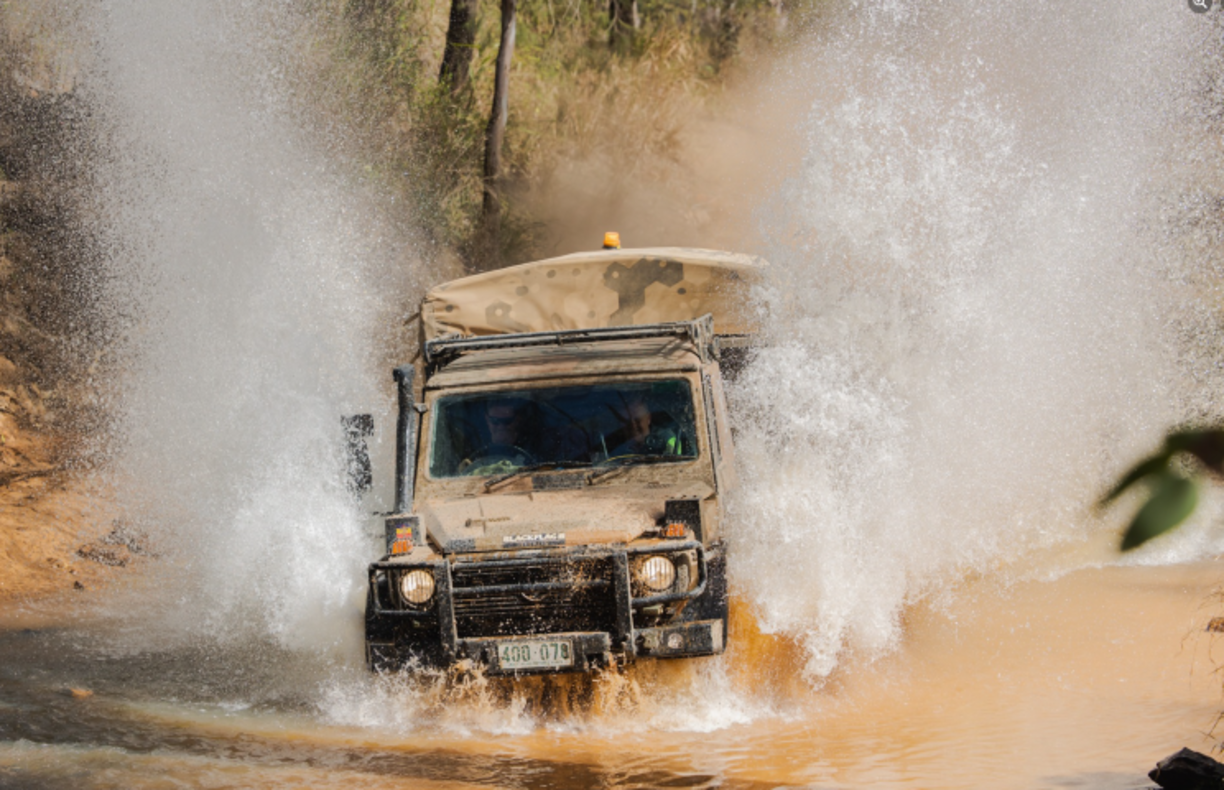 Pictured Above: GER 2022
The Endeavour Foundation is an independent not-for-profit organisation established to support people with a disability. The foundation is one of Queensland's oldest charities and almost half their funding is generated through the annual Great Endeavour Rally (GER 2022).
7th Combat Service Support Battalion (7 CSSB) and attachments will provide general and maintenance support to participants in GER 2022.
This annual support provides an opportunity for positive publicity and community engagement for the unit and Army, strengthening the relationship between 7 CSSB and the Endeavour Foundation.
During GER 2022, support staff will travel approximately 4,592 km throughout Qld. The event will follow a route from Maroochydore to Cairns key locations for overnight stops are:
Maroochydore 02 Sep – Scrutineering, Endeavour Foundation Maroochydore

Mundubbera 03 Sep - Mundubbera Showgrounds

Mt Larcom 04 Sep - Mt Larcom Show Grounds 31 The Narrows Rd

Nebo 05 Sep - Nebo Showgrounds Bowen St

Airlie Beach 06-07 Sep - PCYC Airlie Beach 2489 Shute Harbour Rd Airlie Beach

Charters Towers 08 Sep - Bivoac Junction Holiday Camp, Bivoac Junction Rd

Mount Garnet 09 Sep - Woodleigh Station Kennedy Hwy Ravenshoe

Cairns 10 Sep – 51FNQR
SGT Kristian Smith
7 CSSB
---
Sunshine Coast Luncheon - Maroochydore RSL -

Sat 1 Oct 2022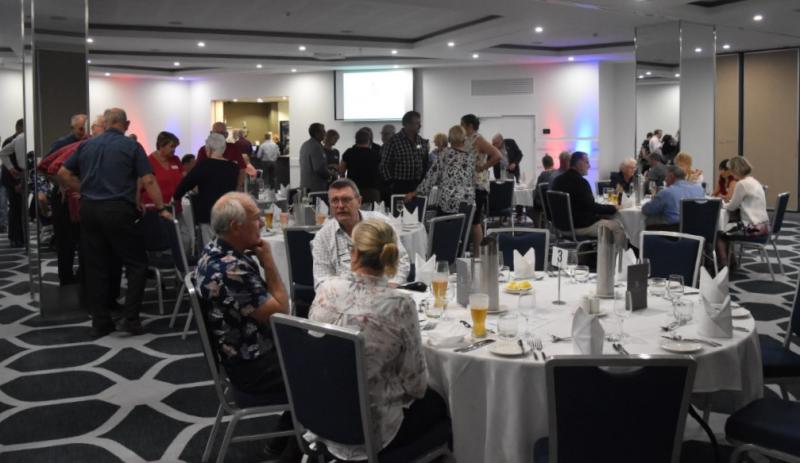 Pictured Above: Guests at the 2021 Luncheon
2022 is the Corps' 80th Anniversary year and what better way to celebrate such an occasion than by attending this year's RAEME Association – Queensland (RAQ), Sunshine Coast Chapter, Annual Luncheon. You, your partner and interested friends are invited to attend this year's celebratory lunch, to be held once more at the Maroochy RSL, on Saturday 01 October 2022.
We are pleased to confirm that our guest speaker is the Founder and Executive Chairman of Canberra based Aspen Medical, retired RAEME Major Glenn Keys AO. Aspen Medical provides support across the full spectrum of healthcare in Australia and abroad and has had Government contracts not just in Australia, but in the UK, US, the Middle East and Africa. Glenn has a wealth of experiences to talk about but will concentrate on Aspen's support to State and Federal Government responses to the COVID pandemic in Australia.
The Colonel Commandant, Queensland, COL (Rtd) Steve Evans, will again host the lunch, and as has become the practice, BRIG (Rtd) Ross Grant AM will be our MC. We will again be ably supported by the Maroochy RSL catering and bar staff, who will look after our every need.
Lunch Details. Important details to remember including the following:
Venue – Room M4 Maroochy RSL, corner Memorial and First Avenues, Maroochydore.
Timings – 1200 for 1230 hours on Saturday 01 October 2022
Dress – Neat casual
Menu – Meals will be served as 'alternate drop'. Please let us know of any special dietary needs
Drinks – The bar will be open from 1200 to 1630 hours and drinks can be purchased at your own expense
Parking - Free parking is available in the multi floor car park directly opposite the RSL. Before departing, please advise the attendant at the front desk in the Club foyer of your vehicle registration number to facilitate exit.
---
Frank Carroll's Transport Depot Tour - Saturday 1 October 2022 - Coolum

As an adjunct to the Sunshine Coast luncheon, particularly for visitors to the Coast, but also for local residents and those who have an interest in old military vehicles, Rolls Royce cars and other equipment, a special viewing of some excellent and well-preserved vehicles has been arranged at Carroll's Transport Depot at nearby Coolum.
The owner, Mr Frank Carroll will conduct a tour commencing at 1000 hours on the morning of 01 October 2022 and last one hour.
You are invited to arrive around 0900 hours and enjoy a coffee and informal walk around (at your cost), before the commencement of the tour ($8 payable at the museum).
Carroll's Transport Depot Museum can be found at:
Unit 2, 52 Lysaght Street

Coolum Beach QLD 4573
We encourage you to visit the museum which houses many great exhibits including the RAQ 1943 GPW Jeep, please indicate your attendance by selecting the 'Register Now' Button below, so we can provide the organiser with numbers.

---
Pictured Above: Members and guests at the 2022 Reunion for the much-anticipated raffle draws.
It comes around just once a year, however the attendance of around 70 members and guests at the 2022 function made the Brisbane Reunion a remarkably successful one.
RAQ Reserve Committee Chair Ian Leabeater kicked off proceedings by welcoming all those in attendance. The group acknowledged a number of comrades who sadly have recently passed.
Ian read out a letter supplied by our COL COMDT QLD- COL Steve Evans, from the HOC BRIG James Allen. Unfortunately, Steve sent his apologies, he was unable to attend, due to his son graduating ADFA on the same day.
The afternoon progressed well with plenty of great food, dished up by our two BBQ Chefs, Nigel and John. Drinks were reasonably priced, and there were plenty of stories to go around, especially of days gone by of when 104 FD WKSP was stationed at Bulimba Barracks. It was prized posting for many reservists.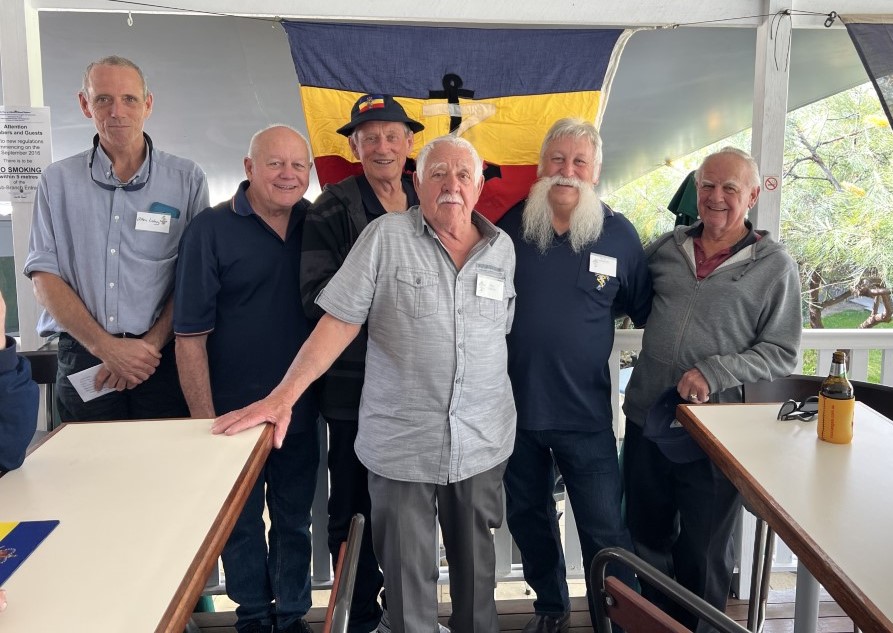 Pictured Above: Members of 1 Comms Zone Recovery Company photo op @ the Reunion. RAQ Function Officer Brian Daley (centre rear)
The committee had organised a heap of raffles which were very well received. It's a credit to the organising committee for garnering such great support from the local community and the Sherwood-Indooroopilly RSL Sub Branch. Not too many people went away empty handed.
John Hague displayed several firearms which were previously part of the Stradbroke Island RSL collection. One of the items was a Type 99 Japanese light Machine gun. The significance of this gun was that it was captured in Milne Bay PNG during WWII. The firearm was restored at 1 Base WKSP and was originally displayed at the SGTs Mess at Bulimba for around ten years before being moved to the Its new home is now the Sherwood-Indooroopilly RSL where it will be on display. Ian Leabeater presented John with a Certificate of Appreciation.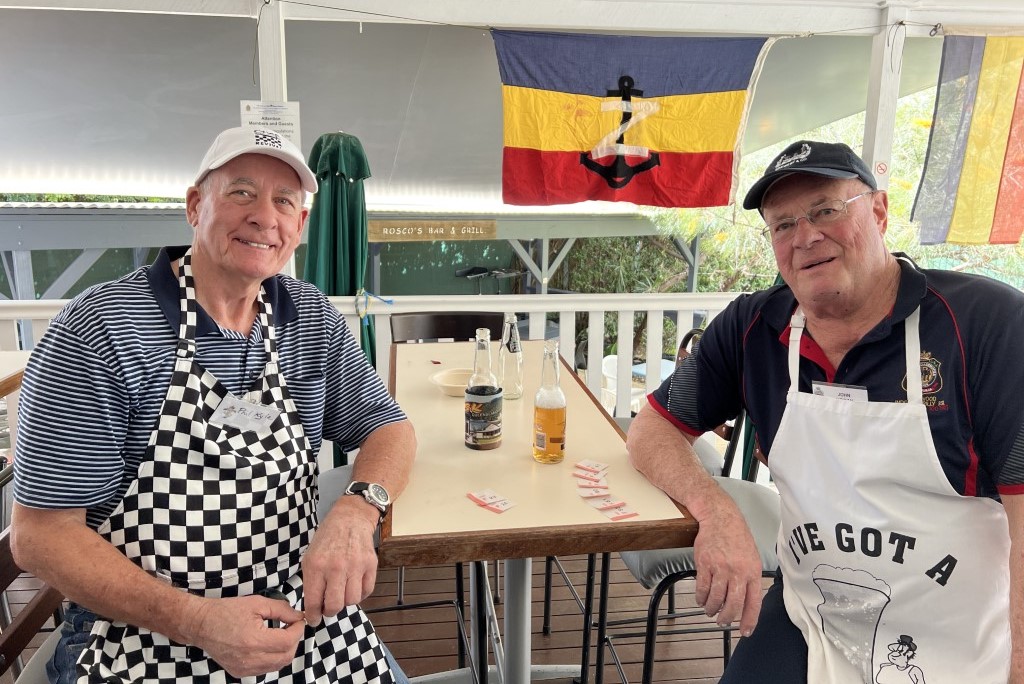 Pictured Above: BBQ Chefs 'extraordinaire' Phil and John! Thankyou
Thanks to the organisers, Ian Leabeater, John Parfitt & the entire crew for making the reunion so successful.
The Association also received a generous donation to Operation Spanner Pack. Thank you to Cedric Payne.
More photos of the day can be found in the photo gallery.
Peter Matthews
RAQ Deputy Chairman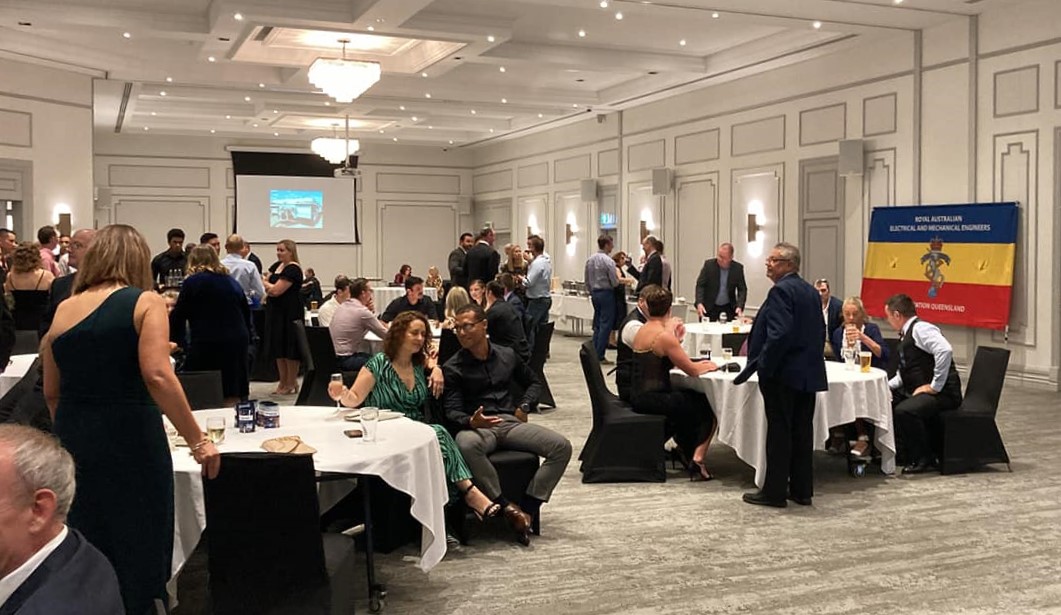 Pictured Above: Members and Guests at the function - Image Courtesy of Graeme Unmack
Around 120 personnel gathered at the Rydges for the 2022 NQ Region RAEME All Ranks Function on Fri 26 Aug 22. Hosted by 3 Bde ASM, EME WO and 3 CSR ASM (WO1 Dean Goninan, WO2s Brian Strow and Marty DeHaan respectively) and OC 102 Fd Wksp (MAJ Mick Gordon), the event was well supported by local industry representatives with strong RAEME connections.
Pictured Above: L-R - Mr and Mrs Don de Tardynski, Graeme Ferret Unmack, Bob Lauro, Kerry and Mick O'Brien
Rydges staff provided excellent food and service on the night and the 1 RAR band (trio) kept us entertained with some soulful jazz music in the background. It was great to see so many RAQ members in the crowd as well as some up and coming RAEME young guns and Regional CFN of the Year Nominees in attendance.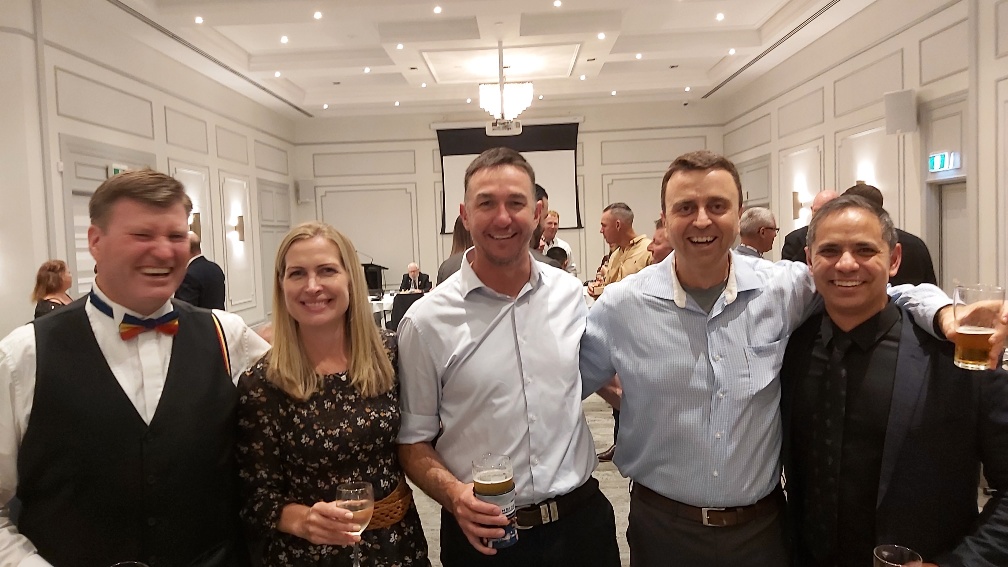 Pictured Above: L-R - WO1 Aaron Writer, Rowena Ferrato, Glenn Ferrato, WO1 Tim Costin & WO1 Jason Peterson
Some quality door prizes were on offer and were well received by those lucky door ticket holders. A special mention goes out to the following local industry icons who sponsored the evening, in no particular order:
AEV – Mick McMillan

DC Services – Danny Cincotta

Haulmark Trailers - Kevin Flanagan

Ironside Resources - Glen Ferrarotto

RGM – Brent Griffin

Jason's Heavy Repair (JHR) - Jason Gullison

SSAF – Mathew Beetham
We are already looking forward to the 2023 function, Arte et Marte.
Cheers Tank
Robert Pontifex
RAQ NQ
Limited Edition Dog Tag Bottle Openers - Available Now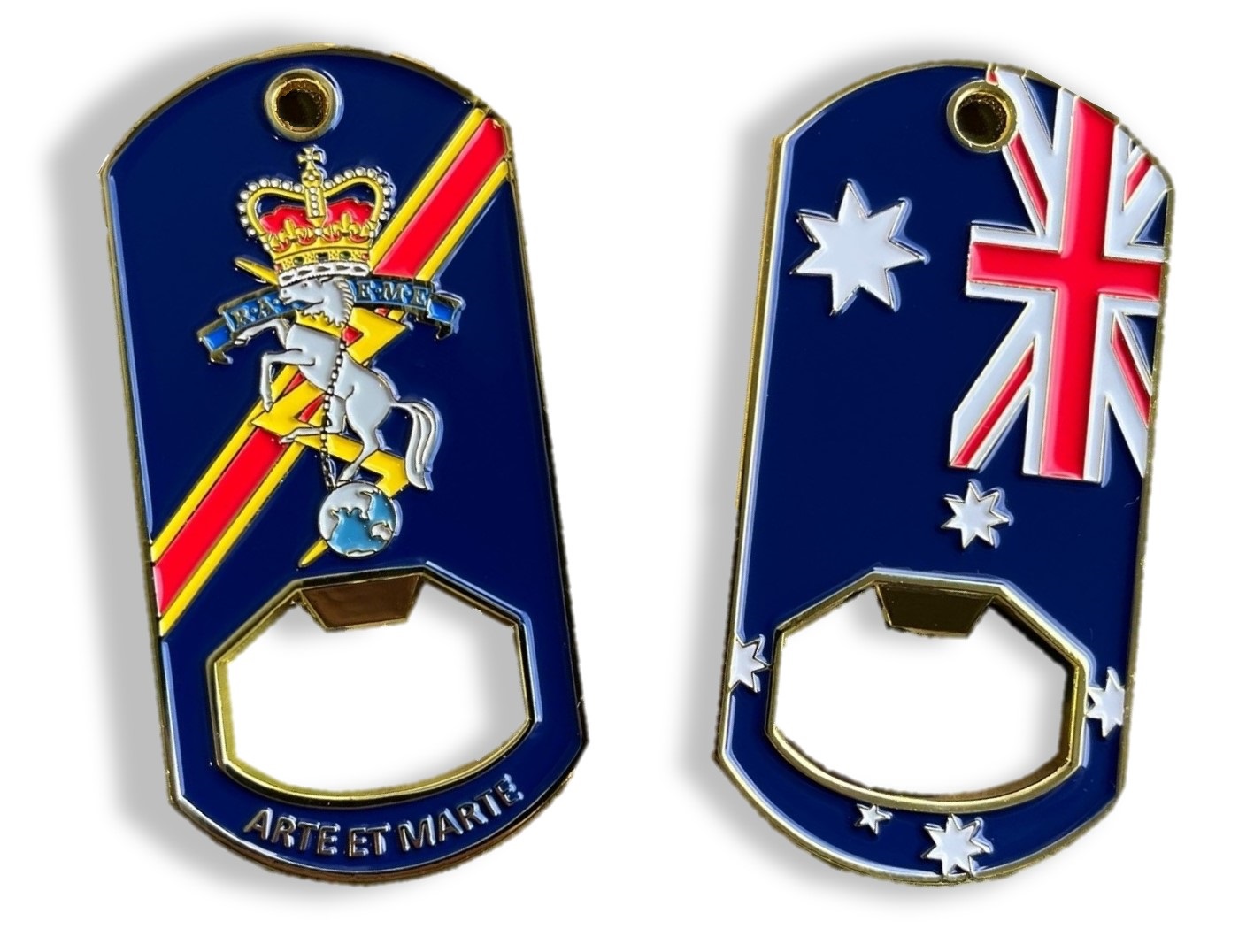 We have secured a limited run of 105 'Dog Tag' Style Metal Bottle Openers. These items will be available for purchase from 6 Sep 2022 and delivery from 8 Sep 2022.
The bottle openers are super quality, made from metal and full colour enamel, sourced from a local veteran owned company in Brisbane.
Prices for RAQ financial members is $9.90
Members don't forget to login for you member discount and 'Click and Collect' option.
Click on the image to take you to the shop to buy.