ANZAC Day March Brisbane 2019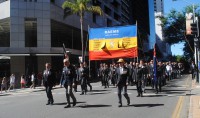 From 25.04.2019 10:30 until 25.04.2019 12:00
ANZAC Day 2019 is not far away. The following is the detail for this year's parade:
Location: Albert Street – Vicinity Albert and Mary Streets (Left Hand Side of Albert Street facing the March)
Time: RAQ need to be formed up and ready to step off at 1040hr.
Order of March: Group 5, Contingent No.83. Look out for the volunteer marshals holding paddles and the proudly displayed RAQ banner.
Assistance: Wheelchairs or a seat in a Golf Cart to participate in the march will be arranged upon request. Please contact Max Walker by phone or email and he will organise the service for you.
- Mobile: 0411 102 242
- email: This email address is being protected from spambots. You need JavaScript enabled to view it.
Golf Carts: Will travel with the RAQ at the rear of the contingent.
Wheelchairs: May be pushed at the front of the RAEME Contingent.
Shuttle Service: A free Golf Cart shuttle service will operate prior to the March. The pickup location is at the corner of Creek and Elizabeth Streets
Getting There: Free travel is available on all Public Transport Services for Defence Force personnel and Veterans in uniform or wearing service medals. Details are available from Translink.
Parking: Best Parking for Buggy Shuttle to Elizabeth Street is the Riverside Centre Car Park. There may be access restrictions to 123 Albert Street & 12 Creek Street car parks after 6:00am due to barrier placement for the Parade.
For more information regarding the full Order of March, Form up Points, Marshalling areas, toilets locations, maps, security, and March Protocols; please visit the ANZAC Day Parade Brisbane website Brisbane ANZAC March Website.
Post March Function
There is a change of venue this year for the post March function. The post March function will be held at "FRIDAYS" at the Riverside Centre Building (123 Eagle Street). FRIDAYS is located approximately one block from the fall-out point at the end of the March. The RAQ have worked with Fridays to keep the cost down in addition to having another great deal for the pre-purchase of tickets. Please print out your E-ticket and bring it along on the day. It will be exchanged for your Entry, Meal and a Drink Voucher. Pre-Purchase tickets are available for sale on our website.
The FRIDAYS private RAEME function will be open from 1130h and the Buffet Meal will be served from approx 1230-1430hrs on the day. Feel free to gather / sit where you are comfortable. However, the low tables against the plate glass windows at the front of the venue have been reserved for some of our older members.
Please reach out to Max Walker if you have any questions, require clarification, or need assistance. He is only too happy to help:
- Mobile: 0411 102 242
- email: This email address is being protected from spambots. You need JavaScript enabled to view it.
ARTE et MARTE